Get Tecla: The Key to Mobile Independence
Tecla gives people with limited upper-body mobility access to their iOS and Android devices using assistive devices.
---
Life before Tecla:
The creators of Tecla, Mauricio Meza and Jorge Silva, had been working in the accessibility and assistive technology space for over a decade. Jorge as a researcher and developer of technology, and Mauricio as an assistive technology consultant working directly with individuals with physical disabilities. Both were frustrated with the state of technology and the systems in place to acquire this technology.
The smartphone revolution:
Once smartphones and tablets became prevalent within our daily lives, their revolutionary impact was not being felt or experienced by those with disabilities. To this day, millions of people with mobility impairments (12 million in North America and Europe alone) are unable to access such devices and thus cannot take advantage of the benefits that have been readily available to their peers. Users with motor impairments typically rely on switch-adapted headsets that only provide access to the voice-dial functions of phones. This means that people like Jason DaSilva, who has lost most of his hand motor function due to multiple sclerosis, and Carolyn Pioro, one of Tecla's earliest beta testers who lives life with quadriplegia after a paralyzing accident, are being left behind as technology surges forward.
Tecla is the solution:
Tecla (meaning "key" in Spanish) bridges this gap, allowing those with very limited mobility to make use of powerful communication tools like SMS, email, social networking, eBooks, electronic documents and apps via their iOS and Android devices. In reality, for users this means an overall reduction in needing dedicated assistive devices, such as speech generation devices or switch-adapted consumer electronics, which are often costly, clunky and out-dated.
Beta testers are key:
Since the beginning of the development of Tecla, Mauricio and Jorge have engaged with community members for feedback. For the first version of the Tecla Access app for Android and the corresponding Tecla Shield hardware, beta testing was completed with six users across Canada who were recruited from rehab centres. They used the Tecla Access tools for their Android devices for a number of weeks. Their feedback resulted in the following features to be developed:
the ability to configure switches to different actions
users can set a time to reset their Tecla-enabled device to return to the home screen
the navigation keyboard hides after not being used after a certain amount of time
inverse switch scanning (i.e. press to start, release to select)
morse code input
the ability to set the speakerphone as a default audio source
voice recognition (in the form of a microphone button) built into the keyboard for navigation and dictation
For the second product release, the Tecla Shield UNO hardware built for iOS devices, Mauricio and Jorge enlisted the help of Christopher Hills, a video blogger from Australia. Christopher has cerebral palsy and he caught the attention of Mauricio and Jorge when he created a video titled "Why Touchscreens Scare Me".
Christopher was quickly provided with a beta version of the Tecla Shield UNO for iOS. At the time in 2012, this was a 100% hardware solution that relied on VoiceOver to provide switch-access to the iPhone and iPad. The results were shown in a new video made by Christopher titled "Me, the iPad and the Tecla". Christopher remains a key contact for the team to this day.
Tecla continues to evolve:
Throughout the development of our current hardware version of the Tecla Shield DOS (a wireless switch and wheelchair device for iOS and Android smartphones, tablets and computers), feedback provided by end-users, clinicians and other stakeholders has continually been incorporated. For example:
the ability to support both iOS and Android technology (compared to the Tecla Shield UNO hardware where you needed one Shield for iOS and another for Android devices)
built-in rechargeable battery (instead of the use of external battery packs)
support for dual-switches (for example: a sip-and-puff switch can be used directly with the Tecla Shield without adapters)
shortcuts created to quickly access Home and Siri in iOS
accessories for easy mounting of smart devices to the wheelchair or in a user's environment
Tecla Next: the future: For our current project Tecla Next, which is a switch-access service to improve accessibility for the Android platform that we built from scratch, we formed a beta testing community in Google Plus. Here, users, clinicians and other stakeholders can download the latest iteration of the app, provide feedback, and propose features that they would like to see in the final version of the app.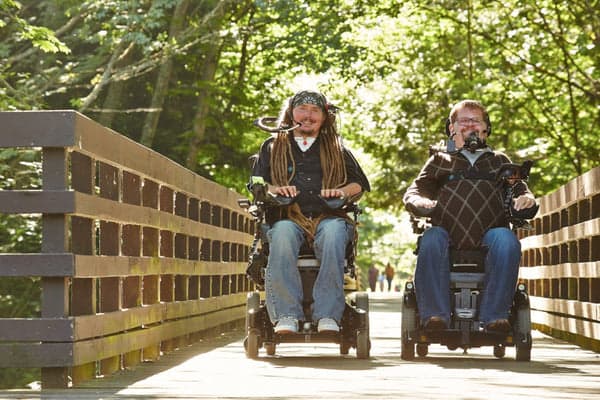 Try it out